1.0 Performance Relative to Stated Mission & Goals
1.1 Overview of PDP's Mission and Function
Since its founding in 1975, PDP has remained steadfast in its support of the public engagement and public service outreach missions at the University at Albany through its various education and training programs. PDP's extensive history of education and training programs have been directed to improving the job performance of those employed at all levels in the public sector and not-for-profit workforce.
PDP is positioned as a major center at the University at Albany located in Rockefeller College to be a leader in the field of training. PDP's core mission remains directly connected to Rockefeller College's public service mission to provide relevant learning opportunities for those individuals who work in or for the public sector. In this respect, PDP's central mission remains directed to offering employees of government agencies, non-government organizations, and not-for-profits crucial education and training opportunities to enhance their knowledge, skills, and abilities. These programs are supported by research, impact studies, and evaluations that measure outcomes and performance.
PDP's purpose remains constant in making a difference in the ever-changing world of public service through linking the principles of adult learning, applied research, and evaluation resources of PDP to achieve this goal in support of the public service engagement mission of Rockefeller College and the University.
Since its earliest days, PDP has remained firmly committed to making applied research, extended learning, and continuing professional education a reality for the public service workforce through offering applicable adult learning education and training programs designed to focus on increasing worker performance at all job levels. PDP programs have provided employees with unique opportunities to gain knowledge and experience in work settings through such activities as job shadowing, cooperative education, and internships.
PDP has long been dedicated to ensuring that it remains centered as a learning organization, that it demonstrates a comprehensive understanding of the needs of its varied customers—from agencies and commissioners to all levels of policy and program staff, including direct service recipients. By practicing these principles, it has been responsive to their needs.
Utilizing various instructional models, techniques, multi-media, and distance learning throughout its educational offerings (e.g., knowledge dissemination and outcome, performance, and evidence-based approaches), PDP has continually produced high-quality programs for learners. PDP uses the principles of adult learning theory to design evidence-based training that leads to improved employee work performance.
PDP's ongoing success is carefully premised on being resourcefully organized to effectively deliver different programs to its various constituents. This time-tested model provides for curriculum design, development, and training staff, supported by subject matter experts, and reinforced by a team of educational multimedia technicians, technical, and support staff to ensure the well-timed dissemination of high-quality educational materials and products.
PDP Staffing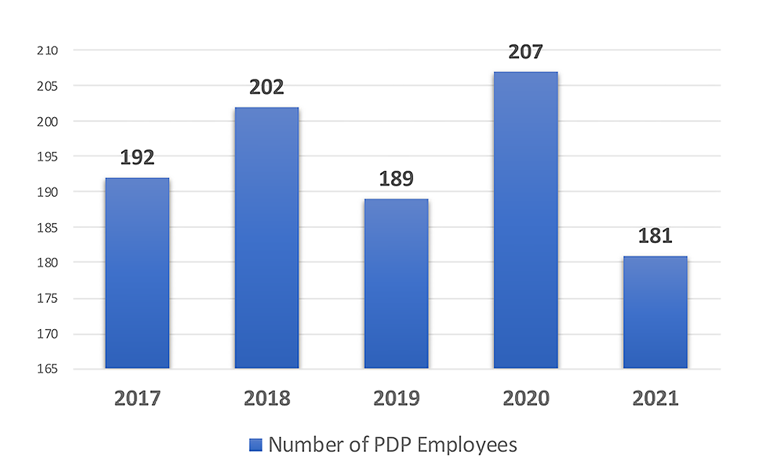 The graph illustrates PDP's staffing history from 2016-2021. The data is presented as total number of employees as follows: 2016 – 193; 2017 – 192; 2018 – 202; 2019 – 189, 2020 – 207, and 2021 – 181.