Executive Summary
Over the past year, the Professional Development Program's (PDP) proficiency to maintain and seek additional funding areas of education and training of the public workforce was challenged. However, PDP's ability in acquiring contracts and grants again confirmed its role as a leader at the University in providing continuing professional education for those who work in or for the public service. The program's success is grounded in PDP's capacity to concentrate on its primary mission of providing high quality continuing professional education and training programs for the public service workforce throughout New York State and beyond. During the past year, PDP obtained 25 awards totaling close to $32 million to conduct work mainly for New York State's public sector workforce. Cumulatively, these awards also produced an indirect cost recovery of $3.5 million for the University. Once again, PDP maintained its position as the leader among the university centers in generating a stable indirect cost recovery of funds for the university.
PDP's staff of almost 200 professionals was immersed in updating and designing curriculum that led to the delivery of a wide range of training programs that bolstered workforce development. PDP successfully offered over 3,000 instructional activities enrolling approximately 347,000 employees, which is a 30% increase in enrollments from 2018. This increase in enrollments correlates directly to the increased demand for on-line learning courses. PDP also generated close to 965,000 contact hours of training in its various educational program offerings during 2018-2019. This represents a 14% increase in contact hours over the previous year. PDP's overall workload remains robust.
The primary responsibility of PDP staff remains the development and delivery of education and training programs that employ the cardinal principles of adult learning theory and produce constructive workforce development outcomes that support employee growth and development while continuing to meet agency-specific needs. To achieve this demanding outcome, PDP staff use their extensive experience, knowledge, and practice skills to create high-quality training products, which cover an assorted range of subject matter areas. PDP's offerings primarily support those employees who work in the social and human services fields. PDP's programs are designed to be directly linked to meeting sponsors' needs, and they have steadily provided measurable outcomes clearly connected to trainees obtaining necessary knowledge, skills, and policy information that make them more productive workers for their organization.
PDP programs effectively assist various state, local government, non-government, and not-for-profit workers and organizations to improve their overall job knowledge, skills, and abilities. Conclusively, this has resulted in generating an improved and more productive workforce for the citizens of New York State. While long established classroom training has remained steady, PDP experienced an increase in technology-driven programming over the past several years, resulting in 34% of its offerings now being delivered using various technology-based platforms. E-learning options continue to become an accepted alternative for instruction, and PDP will continue to maintain its high educational and professional standards to ensure quality control over these offerings. PDP will verify, using various evaluation modalities, that they meet the education and training needs of participants.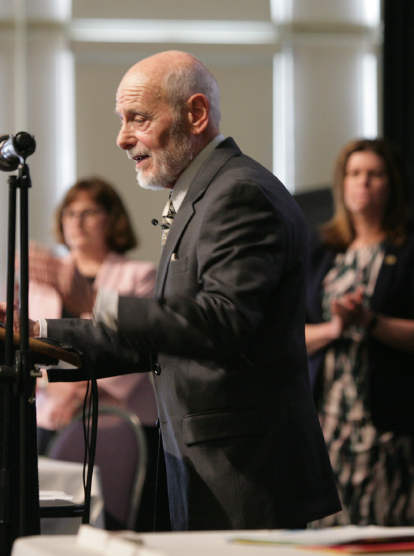 PDP Executive Director and Public Service Professor Eugene J. Monaco addresses staff at the PDP Staff Recognition and Awards Event.
Throughout the past year, the majority of PDP's programs were delivered to employees of the NYS Office of Children and Family Services, the NYS Office of Temporary and Disability Assistance, the NYS Department of Health, the Governor's Office of Employee Relations, and numerous local government agencies throughout New York State. The program areas that had the highest enrollments this past year were Child Care Provider Training, STD/HIV Prevention, Child Welfare, Temporary Assistance Examiner Training, and Computer Skills Training.
PDP's overall sustainability continues to be resilient as it expands its delivery of high-performance programs for the public service workforce in New York State and beyond. Additionally, PDP maintains a broad range of e-learning programs using mobile technology to extend its ability to meet the expanded educational and training needs of today's global workforce while remaining steadfast in maintaining its fundamental values and loyalty to its core mission.
PDP's 2018-2019 Annual Center Report provides many highlights of its accomplishments in supporting the public service workforce. The examples provided demonstrate how PDP's programs have increased applied knowledge and related skills, producing improved worker performance at all levels. PDP has proven repeatedly to be a discerning provider of high-quality education and training for those who work in or for the public sector. It has consistently set high standards and has achieved a reputation for excellence in all it does, which continues to be its trademark.
PDP's value to Rockefeller College and the University is achieved through its ongoing resolve to advance the public and community service mission, goals, and objectives for both the College and University. PDP makes every effort to attain distinction in its work, dependability in its actions, and resoluteness in its responsiveness to meet the needs of its customers. This report provides a comprehensive review of PDP's ongoing accomplishments in meeting these goals in 2018-2019.