7.0 PDP Staff
7.1 Annual Awards
Since 2005, PDP has presented annual awards in honor and recognition of outstanding accomplishments and a commitment to excellence. There are five annual awards: Outstanding Service Award, Outstanding Administrative Support Staff Award, Outstanding Professional Staff Award, Outstanding Team Award, and Outstanding Trainer Award.
The purpose of the PDP Award and Recognition program is to:
foster a culture that supports and rewards innovation and professional improvement.
recognize and reward staff who support and exemplify the PDP vision, mission, core values, and beliefs.
encourage excellence in service.
recognize and reward significant achievements and contributions.
recognize and reward outstanding individual and team performance.
7.1.1 PDP Director's Award
This award is presented in honor of an individual who demonstrates exceptional dedication and contribution to PDP's mission and organizational goals.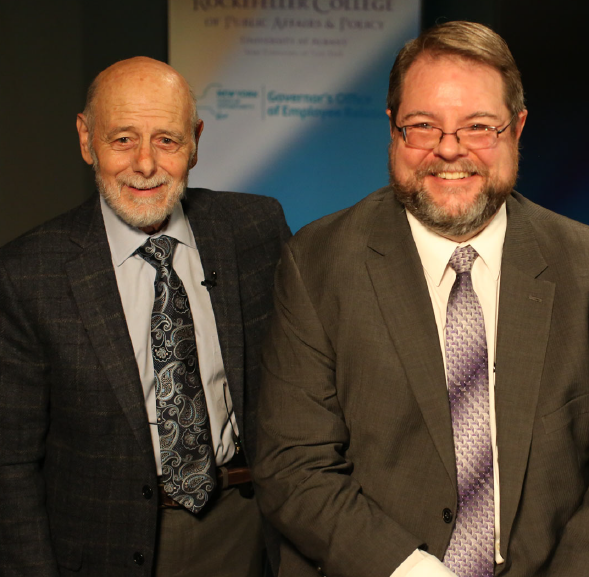 Former PDP Executive Director Eugene Monaco (retired December 31, 2020) with Rockefeller College Dean
R. Karl Rethemeyer
2020 Recipient—Eugene J. Monaco
PDP Executive Director/Principal Investigator and Public Service Professor, retired December 31, 2020
Gene Monaco first joined the Professional Development Program in 1985, after over a decade at Hudson Valley Community College overseeing Continuing Education and then Public and Community Service programs. During Gene's earliest years at PDP, he oversaw Program Evaluation, among other areas, and played a key part in the development of an early 1990's paid program of non-credit courses offered to public audiences, which took place in addition to our regular state contract work. There was also a summer camp program and training done in Somalia, to name just some early highlights from Gene's time at PDP.
Gene later served as PDP Executive Director for over two decades. During his time with PDP, he was instrumental in building it into one of the largest university-based continuing professional education programs in the nation. Gene's Rockefeller College biography lists his academic specialization as Government & Technology. He has over three decades of experience in the design and delivery of instructional activities using state of the art delivery modalities and in the development of curricula, training, and research materials for continuing professional education geared toward the public service workforce. Gene was the driving force in PDP's expansion into online learning as an early adopter of then newly emerging delivery methods.
He has authored numerous journal articles and scholarly abstracts, and presented papers both nationally and internationally, regarding continuing professional education and workforce development. In addition, Gene is the co-author of two books on government and technology. Gene developed and led PDP's biannual newsletter, the Communiqué, overseeing 45 issues. It is a project about which Gene is particularly passionate.
As we honor Gene for his Outstanding Service to PDP for well over three decades, we reflect on his dedication to the mission of PDP—to make a difference in a changing world by linking the learning, applied research, and evaluation resources of the University with the continuing professional education needs of the public service, and doing so with excellence in all that we do!
7.1.2 Outstanding Administrative Support Staff
This award may be given annually and is designed to recognize an employee who has demonstrated outstanding accomplishments in the area of administrative support as well as commitment to PDP and our sponsors.
2020 Recipient—Terri Zuelsdorf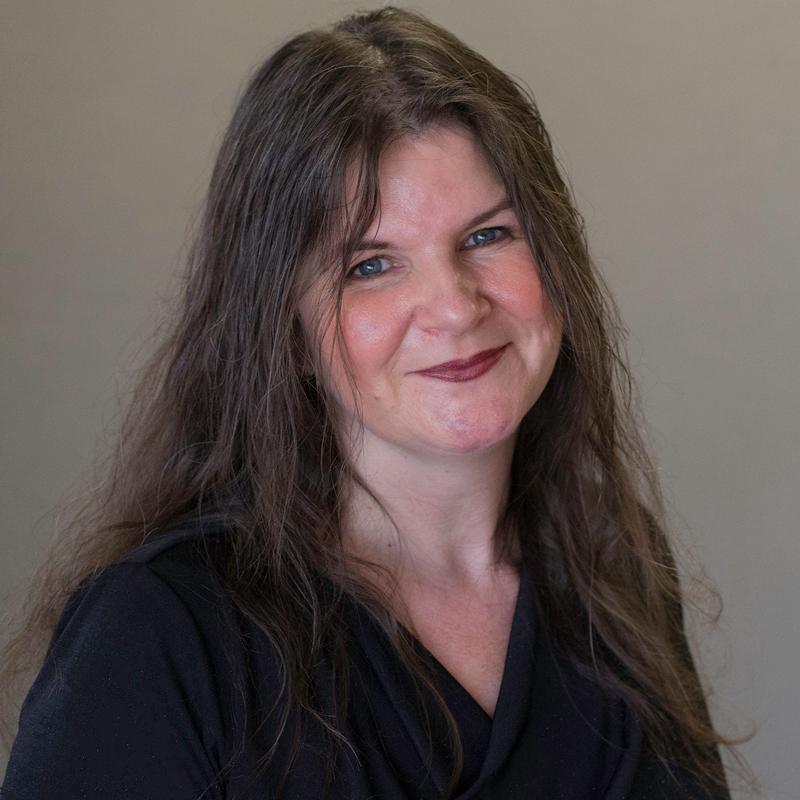 Terri Zuelsdorf
Terri's dedication to her work responsibilities, evaluating and assessing tasks that could be more efficient, and taking the initiative to make improvements where possible contributes to PDP's success with internal and external activities. She consistently demonstrates expertise in administrative support, competence in customer service and interpersonal communication skills. Terri also does an outstanding job working with several state agencies as well as various colleges to process nursing grant requests. She is often recognized by the Department of Health program liaison for her excellent customer service under the HWRI project. Terri is a valued PDP employee who is always willing to help while maintaining a positive attitude and an open mind to new opportunities.
7.1.3 Outstanding Professional Staff
This award may be given annually and is designed to recognize an employee who has demonstrated outstanding accomplishments in their area of expertise as well as commitment to PDP and our sponsors.
2020 Recipient—LaToya Jackson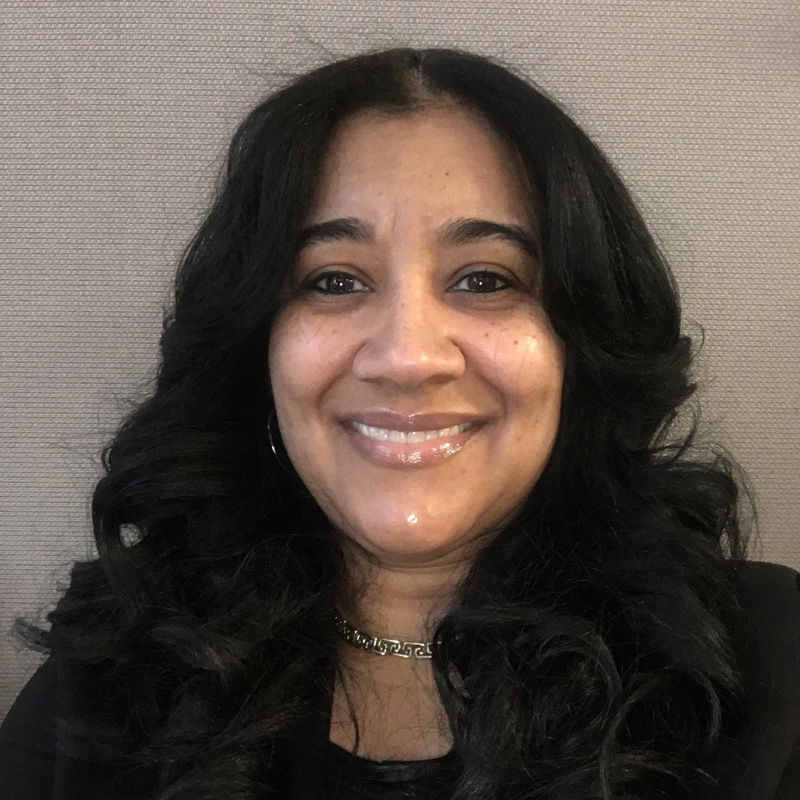 LaToya Jackson
LaToya Jackson of PDP's PSWP unit was charged with leading the effort to transition the 12-day, 8-month NYS Leadership Institute from a classroom-based training program to fully virtual when the pandemic began. She was responsible for coordinating all aspects of training delivery, faculty and speaker preparation, facilitator preparation, and participant communication. LaToya was the "glue" that held together a complicated program delivery model demonstrating impressive critical thinking, problem-solving, and decision-making skills to allow for not only a successful transition to virtual, but in some ways superior training experience for the high-level State executives participating in the program.
7.1.4 Outstanding Trainer
This award may be given annually and is designed to recognize an employee who has demonstrated outstanding accomplishments as a PDP trainer as well as commitment to their training team, PDP, and sponsors
2020 Recipient—Eleanor Daiga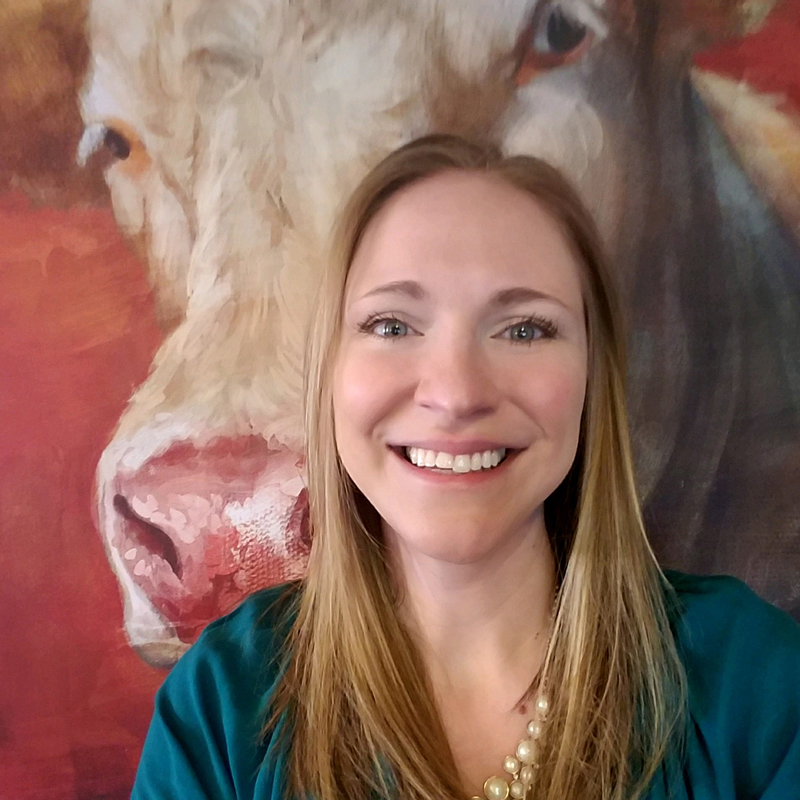 Eleanor Daiga
Ellie provides virtual and classroom training and develops curriculum for PDP's CC05: Working with Substance Affected Families project. Ellie is the sole Sr. Education Specialist/Trainer on this project. For a period of time in 2020, due to staffing vacancies, Ellie solely and successfully managed project deliverables. Ellie converted content for virtual delivery, posted trainings in Webex and HSLC, and marketed her offerings while also maintaining a consistent training calendar. Ellie is positive and supportive in the classroom and allows participants to explore the topic and identify their challenges in working with substance-affected families honestly and without judgment. Ellie consistently receives high marks on Participant Reaction Questionnaires and her trainings are frequently sought out by the field and regularly filled to capacity.
7.1.5 Outstanding Team
This award may be given annually and is designed to recognize and reward employees who combine their individual talents to produce outcomes that would not be possible without effective collaboration. Any team organized to accomplish a specific task or work on a project is eligible for this award.
2020 Recipient—SYS20 Child Care Systems Training Team
Team Members: Nathan Cadoret; Max DeSieno; Amy Goodrich; Lakia Green; Stephen Guckemus; Jodi Kerper; June Mastan; Tammy Morrissey; Patty Seeberger.
The SYS20 team's work includes curriculum development, help topic development for the Help system, and classroom and distance learning training to support statewide users of three major computer applications used by the OCFS Division of Child Care Services. These are: Child Care Facility System (CCFS), Child Care Time and Attendance, and Facility Application Management System. A tremendous amount of work took place throughout the year with shifts to training needs due to the COVID-19 pandemic. A new, two-day CCFS classroom training course launched in the first quarter of 2020, requiring team members to work extended hours over several days to meet sponsor needs and accommodate not only system but also business procedure changes immediately prior to the course pilot and launch. Throughout the project year, staff needed to develop training materials and evaluation instruments, work with ITS on Training Database updates and training records to accommodate system changes, monitor registration, manage print production (first quarter only), deliver training, and design and develop help topics.